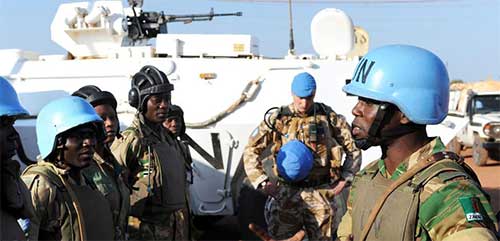 Seven UN peacekeepers were wounded by a blast that hit their vehicle near the airport in the northern Malian town of Kidal on Friday, the latest in a string of attacks on foreign forces.
A witness said the troops involved were Senegalese and the area to the east of the town had been cordoned off.
An investigation was underway to establish if the vehicle hit a land mine or another kind of explosive device, the UN mission said.
Peacekeepers have deployed in the West African country since mid-2013 but Islamists driven from its desert north two years ago by French forces have stepped up ambushes and bomb attacks on UN and government troops.
France has withdrawn soldiers troops from Mali to focus on a broader, Sahel-wide security operation against militants.
Diplomats say insurgents, some of whom are linked to al-Qaeda's regional wing, AQIM, have regrouped and appear to have received new training and weapons.
Four of the soldiers on Friday were slightly wounded and the three others suffered fractures, the UN said.
A total of 33 UN peacekeepers have died and 100 more have been wounded in Mali.