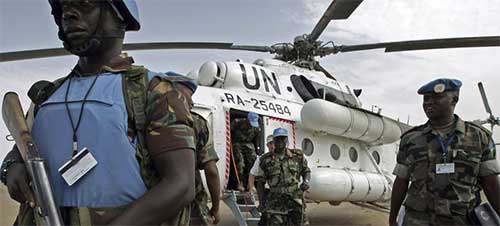 Mali's foreign minister has told the UN Security Council that an international force could help stabilize Libya and the entire Sahel region and check the threat from Islamist groups.
Mali is among five countries that launched an appeal to the United Nations and the African Union for foreign intervention to fight Libyan armed groups and to help build stable institutions.
"The heads of state of Sahel countries have clearly called for the deployment of an international force to contain the terrorist threat," Foreign Minister Abdoulaye Diop told reporters after briefing the Security Council yesterday.
Northern Mali was overrun by Islamist groups in April 2012, many of whom were armed or trained in Libya, before France sent troops to drive them out.
With Libya engulfed in fighting between rival militias, there are fears that Mali and other countries in the region will be dragged into more violence.
"Anything that is happening in Libya has consequences not only in Mali but on the entire Sahel and beyond. This is where we see the connexion between Mali, ISIS, all the Shebabs and Boko Haram, and I can go down the list," Diop said.
Islamist militias in Libya are said to have developed ties with Islamic State fighters in Iraq and Syria by offering training camps for their recruits.
The foreign minister also asked the Security Council to use its influence to bring key players to the table for upcoming talks hosted by Algeria on a peace accord for northern Mali.
Diop said the absence of influential players from the various armed groups, some of whom get support from countries in the region, had prevented the peace talks from making progress.
A recent surge in attacks is a bid by armed groups to derail the peace talks, scheduled to resume in February, said Diop.