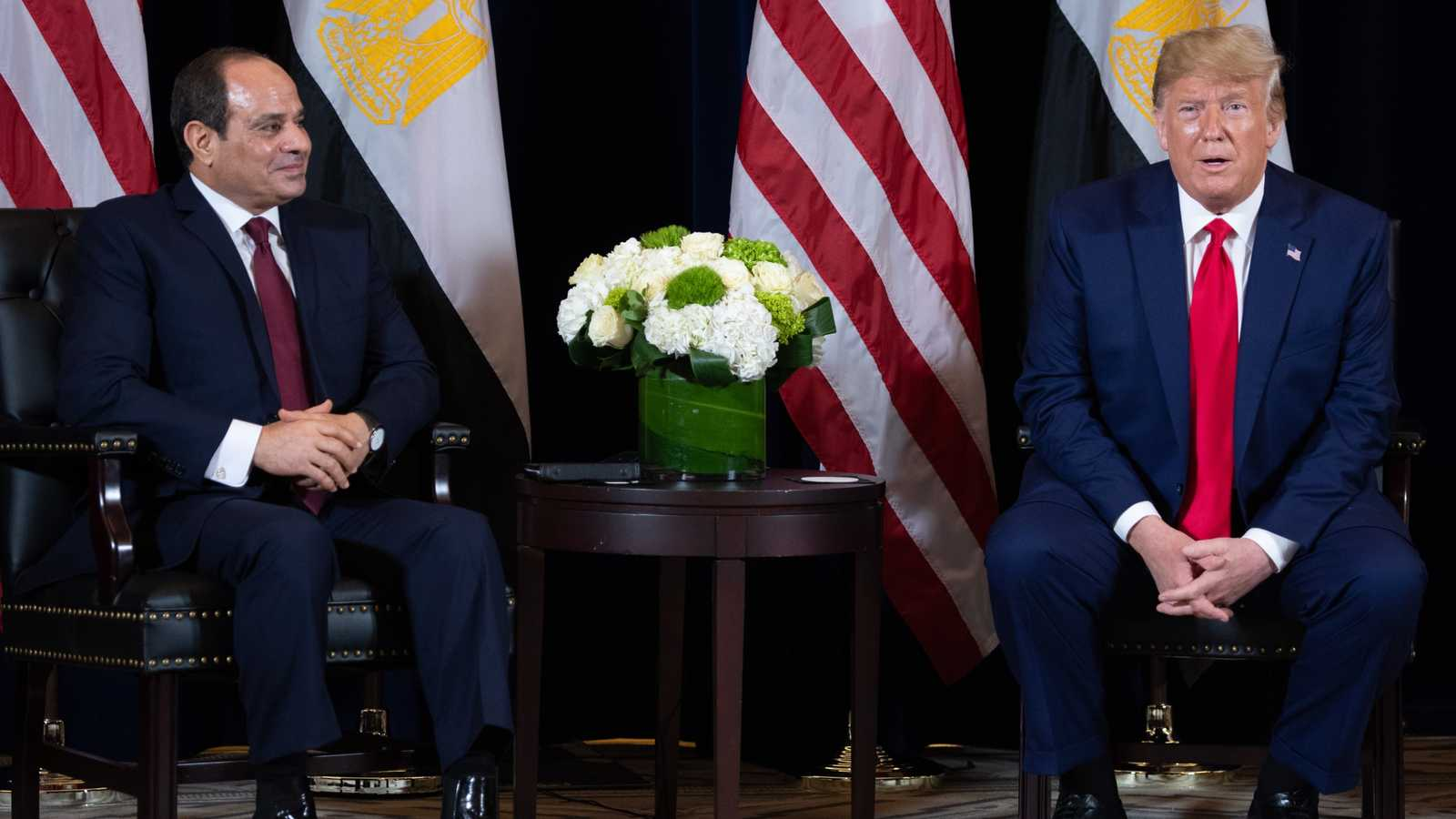 The outgoing president initally sought to freeze US military aid to Egypt over its purchase of Russian military hardware.
US military aid to Egypt, Jordan and Israel was explicitly excluded from a list of deep cuts to domestic and foreign spending ordered by the White House in a last-minute sign of outgoing President Donald Trump's frustration with last month's omnibus spending package.
The White House notified Congress on Thursday night of the president's intent to cut $27.4 billion in government spending, including funding for overseas vaccination programs, treatment of HIV/AIDS, migrant and refugee assistance, the Environmental Protection Agency and foreign cultural exchange programs.
Lawmakers are unlikely to act on the notice amid impeachment proceedings against the president following an attack by a mob of Trump supporters on the Capitol last week.
But the decision triggers an automatic 45-day freeze on the funds until it is reversed, most likely by President-elect Joe Biden, who takes office Wednesday. Al-Monitor has reached out to Biden's transition team for comment.
Trump ordered the massive cuts after publicly railing against what he called "wasteful spending" included in the omnibus bill passed by Congress in late December.
"It's called the COVID relief bill, but it has almost nothing to do with COVID," Trump said in a televised appearance in late December.
"The bill contains $85.5 million for assistance to Cambodia, $134 million to Burma, $1.3 billion for Egypt and the Egyptian military, which will go out and buy almost exclusively Russian military equipment," he said. Much of the funding included in the bill had been requested by the White House's fiscal 2021 budget request.
The initial proposal to cut foreign aid, first reported by The Washington Post, originally included a halt of all US military and economic aid to Egypt, Al-Monitor has learned. That cut was later removed after consultations between senior White House advisers before Congress was notified Thursday. The White House did not respond to Al-Monitor's request for comment by publication time.
Trump's rare criticism of Egyptian President Abdel Fattah al-Sisi in December appeared to be in reference of Cairo's purchase of Russia's Su-35 fighter jets. The outgoing US president once dubbed Sisi his "favorite dictator" and heaped praise on the Egyptian regime, despite its massive human rights abuses and a seemingly stalemated counterinsurgency effort in the Sinai.
Secretary of State Mike Pompeo and former Defense Secretary Mark Esper reportedly warned Egyptian officials in 2019 that purchasing the Su-35s could trigger economic sanctions and limit future defense deals with Washington. The administration has held off on such penalties so far.