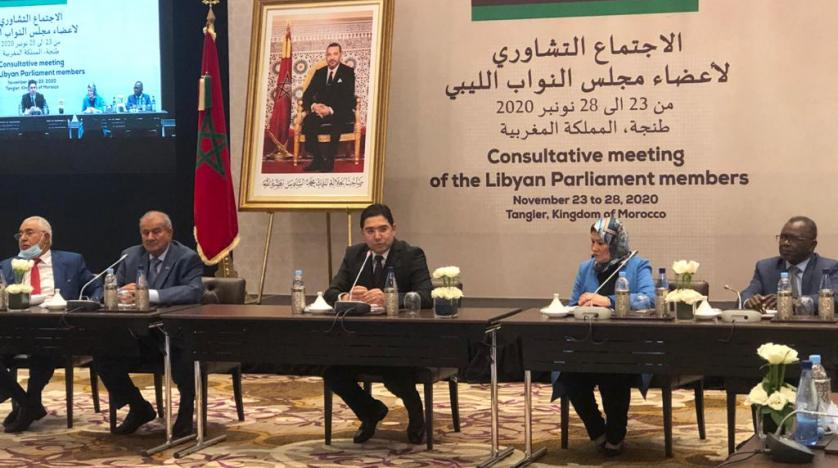 Libyan lawmakers meeting in Morocco on Saturday announced that they had reached an agreement that sees the eastern city of Benghazi become the constitutional base for their country's parliament.
A hundred MPs concluded their consultative talks in Tangier after five days of discussions aimed at bridging divisions between the country's divided factions.
They agreed to follow up on their discussions during a parliament session that will be held in Libya's Ghadames city.
The MPs expressed their determination to end the division at all state institutions and preserve national unity and sovereignty. Libya is divided between a parliament that is based in Tobruk in the east and another based in the capital, Tripoli.
The lawmakers also underscored their readiness to positively approach all dialogue agreements in line with the constitutional declaration and its amendments, while hailing the progress achieved by the military (5+5) committee.
The gatherers in Tangier expressed their commitment to holding presidential and parliamentary elections according to the constitution and ending the division as soon as possible. They hoped the polls will be held within a year.
Moreover, they urged the need to shun hatred, calling on all media platforms to favor rhetoric that promotes forgiveness and tolerance. They also stressed the need to push forward national reconciliation and ensure the safe return of refugees.
Moroccan Foreign Minister Nasser Bourita praised the Tangier meeting, saying that the fact that lawmakers made it to the talks was a success in and of itself given that the parliament has not met with a majority of its members in years.
He lauded the lawmakers for displaying a sense of responsibility towards the nation throughout the talks, saying that their upcoming meeting in Ghadames will mark a major turning point in Libya.