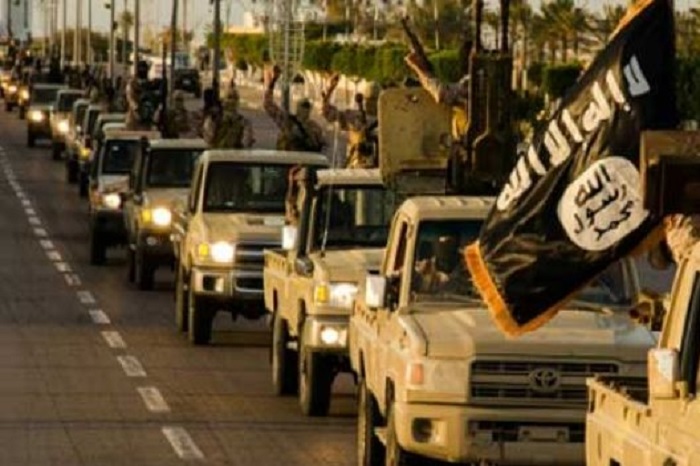 Military police in the Libyan city of Benghazi have detained a terrorist named Mohamed Sobhi, who holds Egyptian citizenship and is a former officer of the Islamic State (IS) in the al-Naqleya district.
The Libya 24 newspaper on Monday quoted military sources saying that Sobhi confessed to crimes such as the abduction and rape of Libyan women, in addition to demanding ransoms from the families of kidnapped hostages.
According to one source, Sobhi was arrested in a checkpoint on the road to the Musaid border crossing between Libya and Egypt. He had been planning to travel from Benghazi to Cairo.
Sobhi was an officer in a militia led by IS terrorist leader Muhammad Salem Bahroun, also known as "al-Faar" (the rat), the source added.
The Libya 24 report wrote that Sobhi entered Libya illegally and had previously worked as an electrician in Cairo. Sobhi detailed how Bahroun recruited hundreds of African immigrants from Chad and Sudan, and convinced fighters from the Boko Haram terrorist organization to fight alongside IS against the Libyan army.
Sobhi further confessed how his leader Bahroun kidnapped dozens of Libyan women from their families on Omar al-Mukhtar Street in al-Zawiya city – sometimes even slaughtering them with along with their entire families.
Bahroun controls a farm outside Zawiya city, west of Tripoli, which he uses as a prison for his hostages while another farm holds the kidnapped women.
The newspaper reported that Bahroun's militia supports Libya's Government of National Accord (GNA), headed by Fayez al-Sarraj, alongside armed groups in Zawiya city such as gangs engaged in smuggling and human trafficking.
Through forged documents Bahroun was appointed as commander of the First Security Support Force of Zawiya Security Directorate and to police at the rank of first lieutenant and captain, the source added.
One of the most dangerous fuel smugglers and human traffickers in Zawiya, Bahroun's hefty crime record includes the rape, assault and kidnapping of women, the recruit of migrants for terrorism purposes, and smuggling.
He is wanted for his involvement in security and terrorist issues.