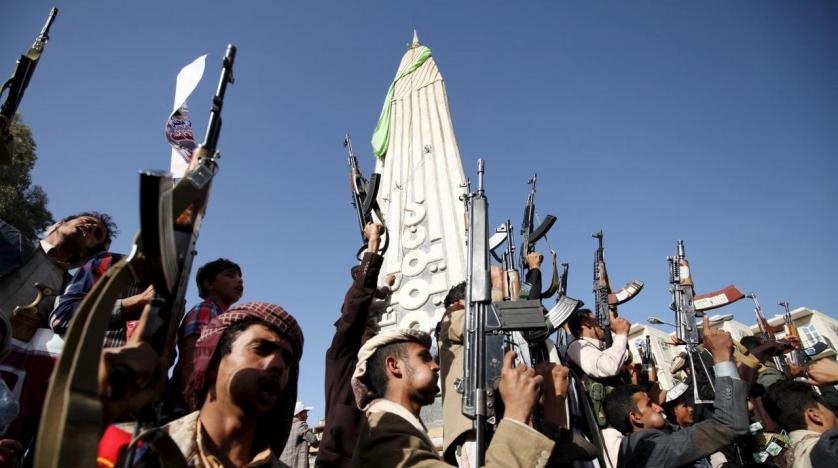 The Iran-backed Houthi militias have not stopped their repressive acts and violations against people in Sanaa and other areas under their control. This coincided with their celebrations and events organized to commemorate their members killed on battlefronts.
Moreover, human rights sources have indicated that the militias have intensified their abductions of civilians, in addition to campaigns to shave the hair of teenagers on the street.
The same sources said the militias had kidnapped an entire family in Safia in central Sanaa after armed men, accompanied by female Houthi members, known as the "Zeinabis", raided their home.
The sources also clarified that the Houthis abducted two girls last month along with their father and brother and took them to an unknown location, likely one of their secret prisons.
Through media outlets that support them, the militias claimed they had kidnapped the family due to honor-related issues – an excuse they often use to justify abductions.
Meanwhile, the militias launched a campaign in Sanaa to shave the hair of male teenagers in the streets as part of their efforts to implement what their leader, Abdul Malik al-Houthi, called "faithful culture". Videos circulated on social media showed Houthis holding teenage boys against their will as they get a haircut.
The Houthis forced barbers in areas under their control to perform specific haircuts, threatening them with imprisonment and punishment in case they violated their instructions.
Local sources also mentioned that armed militiamen in Sanaa shot a barber last month while he was working in his shop in Garaf north of the capital.
Forcing Yemenis to adhere to the "faithful culture" has not been limited to haircuts, but has extended to other forms of the people's daily life.
'Faithful culture'
Houthi armed men have previously broken into weddings and university graduation ceremonies in Sanaa, Dhamar and Amran to object against the use of musical instruments.
The Houthis also removed ads that promote makeup for women in several streets in Sanaa and forced salons to remove their ads under the claim that such photos delayed the "group's victory", according to a speech by their leader.
Many Yemeni activists compared the Houthi methods to those of terrorist organizations, such as ISIS, noting the many shared ideas between them. They cited ISIS' dividing of society into believers and infidels and Houthis' dividing it into believers and hypocrites.
A few months ago, the Houthis issued a circular to public schools in Sanaa and the governorates under their control to ban singing and music and emphasize the importance of permits to hold celebrations.
The Houthis claim that these incidents are personal initiatives, not their official policies, but their recurrence has made many suspect otherwise.
People from Sanaa have told Asharq Al-Awsat that the "Houthinization of society" by the militias is not only limited to government institutions, but has also involved the media and mosques.
Since taking over Sanaa and several other governorates, the militias have been careful to transform the educational system into hubs for spreading their extremist ideologies. Such efforts were accelerated after Yehya Houthi, the leader's brother, was appointed Minister of Education in the unrecognized coup government.
Yemeni rights activists confirm that by doing so, in the short term, they are trying to recruit students and turn them into soldiers to be sent to the fronts. In the long run, they want to transform society's identity and spread their extremist ideology through schools.