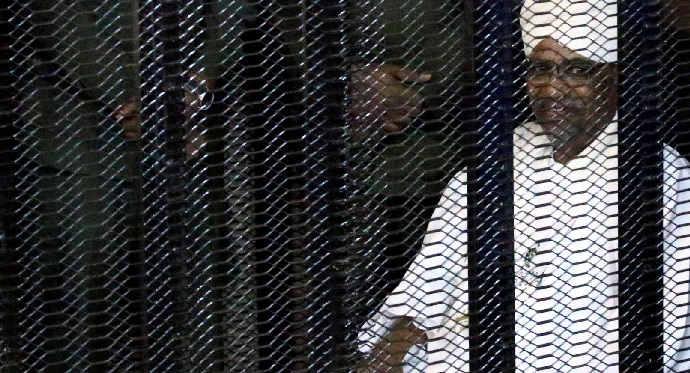 A Sudanese court convicted former President Omar al-Bashir on Saturday of corruption and money laundering and sentenced him to two years in a correctional facility.
The conviction was the first verdict for Bashir, 75, whom the military deposed in April after months of mass street protests against his three decades of authoritarian rule.
The court also ordered the confiscation of millions of U.S. dollars, euros and Sudanese pounds that were found at Bashir's home when he was ousted.
Bashir was dressed in traditional white robes and a turban during Saturday's court proceeding, and he watched quietly from inside a metal cage while the judge read the verdict.
Dozens of his supporters protested in the streets of Khartoum after the trial, which many said was politically motivated.
The Sudanese Professionals Association, the foundation of the year-old protest movement against Bashir, applauded the verdict as a "moral and political conviction" of the former president.
Bashir is facing other charges in Sudan, including inciting violence and being involved in the murder of protesters. Earlier this week, authorities questioned Bashir about his role in the 1989 military coup that brought him to power.
Bashir also faces numerous charges in the International Criminal Court for war crimes, genocide, torture and the killing of protesters during the uprising in Sudan's Darfur.
Some 300,000 people were killed and another 2.5 million displaced in the Darfur conflict, according to the United Nations.
Bashir's lead attorney, Ahmed Ibrahim al-Tahir, said the former strongman would appeal Saturday's verdict.
Protests, economic crisis
The verdict came one year after protests erupted against Bashir's rule and the deepening economic crisis that began to spread across Sudan last December.
A group of military generals removed Bashir from power nearly four months later and detained him in Khartoum's Kobar prison, where he had jailed thousands of his opponents.
The judge who presided over Saturday's trial said Bashir would be sent to a minimum-security reform facility rather than a prison because of his age.