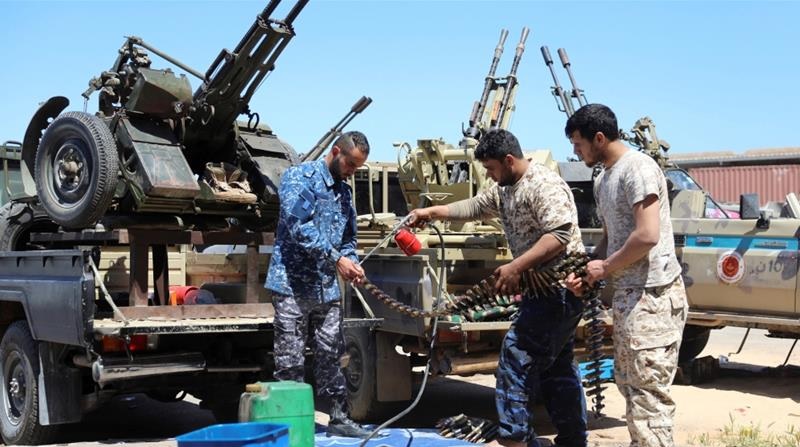 Radio France Internationale (RFI) said the solution for the ongoing conflict in Libya will go through two conferences, as agreed upon by western countries in the recent Group of Seven (G7) Summit.
"For Westerners, it is time to put an end to the conflict in Libya by focusing on a political solution and maintaining the status quo around Tripoli, as both parties are unable to prevail." RFI said on Wednesday.
The first conference is going to be an inter-Libyan conference; a revised and corrected version of that planned by Ghassan Salamé, the UN special envoy, before the war broke out.
No dates and even the place of this meeting were disclosed.
According to RFI, it looks however more inclusive, as military leaders of Misrata and Zintan, heavyweights of the conflict, will be invited.
According to Libyan sources, Ghassan Salamé also met in Tunis Oussama Juwaili, the commander of western military zone of the Government of National Accord, and who would condition a truce to guarantees of security for his fighters.
"The stated objective of this inter-Libyan conference is to lay a new foundation for the previous conference held in Skhirat in Morocco in 2016, to allow, in the long term, to reunify the Libyan executive authority, that is today divided between East and West." RFI further revealed.
The second conference, international this time, is planned in New York at the end of September, on the sidelines of the UN General Assembly.
"After being divided, Westerners now show pragmatism, more determined to get out of the crisis. In this perspective, France is consulting with London and Rome and seeking to establish a lasting truce in Tripoli nearly five months after the start of the conflict." Disclosed RFI.
It added that for the international community, it is essential to adopt more realistic solutions and to compel the stakeholders to stick to them.
The final declaration of the G7 summit on Sunday (August 25th) called for an international conference to end the crisis in Libya. The G7 countries also affirmed their support for the work of the United Nations to set up an inter-Libyan conference.