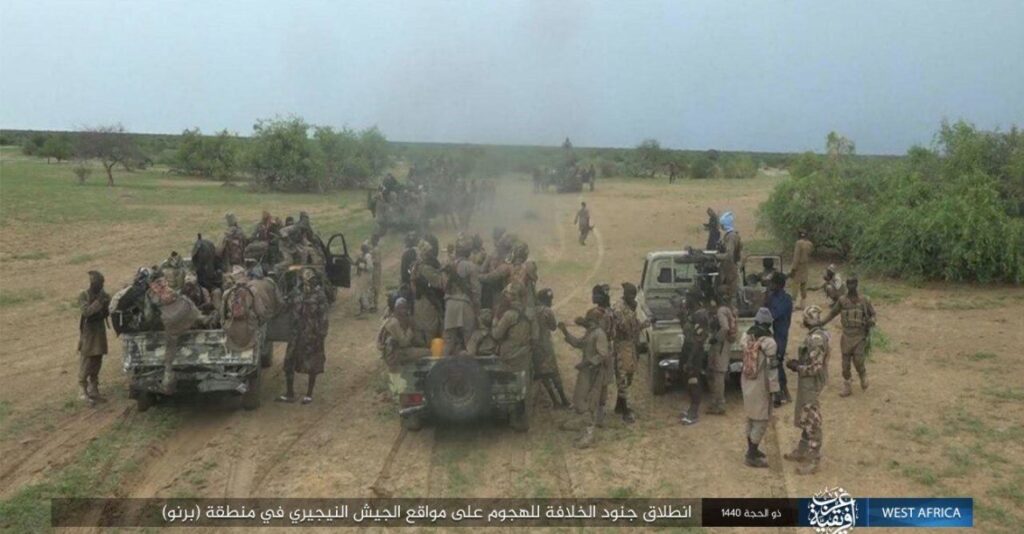 Islamic State on Wednesday published a series of images that it said were from an attack in Nigeria's northeast Borno state.
The images included one of a large group of fighters in at least seven technical vehicles, battle scenes, at least two purportedly captured vehicles, ammunition, and, unusually, one artillery piece.
ISIS did not say when the raid took place but a Nigerian Army base at Gubio, around 80 km (50 miles) north Borno state capital Maiduguri was attacked by Islamic State West Africa Province fighters on Saturday, August 10, ahead of Monday's Eid al-Adha festival, AFP reported military sources as saying on Sunday.
Three soldiers were killed "defending the base from ISWAP terrorists who wanted to overrun it," the first source said.
"Three civilians were hit and killed in crossfire," said the source, an officer who asked not to be identified for fear of punishment.
Two soldiers and six civilians were injured, he said.
The fighters attacked the base in eight pickup trucks fitted with machine guns, leading to a two-hour long battle, said the second source, who gave the same toll.
The attack was repelled with the aid of a fighter jet which deployed two hours into the clashes, said the officer.
"The terrorists were pulverised and forced to withdraw. Eleven of them were killed and three of their vehicles were seized," he said.
ISWAP fighters captured four technical vehicles, one mortar and one artillery piece, Premium Times reported. A "tank" that was stolen was later recovered, the report said.
In May, ISWAP fighters overran the base at Gubio, killing at least three soldiers. Two days later, ISIS claimed ISWAP fighters killed 20 soldiers in the Gubio raid, and its Amaq propaganda agency released an image of a police Otokar Cobra armored vehicle. Amaq later released three images that it said were "part of the spoils" taken "after attacking the Nigerian army barracks in Borno," without specifying a date or location.
ISWAP's main area of operations is further east in the Lake Chad area, but there has been a string of attacks on military bases north of Maiduguri.
Decade-long cross-border insurgency
The jihadist group known as Boko Haram began its bloody insurgency in northeastern Nigeria in 2009, but it has since spread into neighboring Niger, Chad and Cameroon, prompting a regional military response. More than 27,000 people have been killed and two million others displaced, sparking a dire humanitarian crisis in the region. The U.S. assesses that Boko Haram and ISWAP have been responsible for over 35,000 deaths since 2011.
Boko Haram split into two factions in mid-2016. One, led by long-time leader Abubakar Shekau, is notorious for suicide bombings and indiscriminate killings of civilians. Shekau pledged allegiance to ISIS leader Abu Bakr Al-Baghdadi in March 2015, but ISIS central only gives formal backing to the other faction, which it calls Islamic State West Africa Province.
The ISWAP faction, which largely focuses on attacking military and government targets, was led by Abu Mus'ab Al-Barnawi, but in March, audio recordings revealed that ISIS appointed Abu Abdullah Idris bin Umar, also known as Ibn Umar al-Barnawi, as leader. Despite releasing several videos featuring ISWAP since, ISIS has not yet made a public statement confirming the change.
Since May, Islamic State has attributed insurgent activities in the Mali-Burkina Faso-Niger tri-border area to its West Africa Province affiliate, rather than to what was previously known as Islamic State in the Greater Sahara. In a June 15 ISIS propaganda video, ISWAP militants purportedly in Nigeria, Mali and Burkina Faso were shown reaffirming their pledge of allegiance to ISIS leader Baghdadi.
The MNJTF which comprises personnel from Chad, Cameroon, Niger, and Nigeria, launched Operation Yancin Tafki on February 21 to battle the insurgents. It has said the cross-border operation is aimed at "making islands and other settlements in Lake Chad untenable for Boko Haram Terrorists."