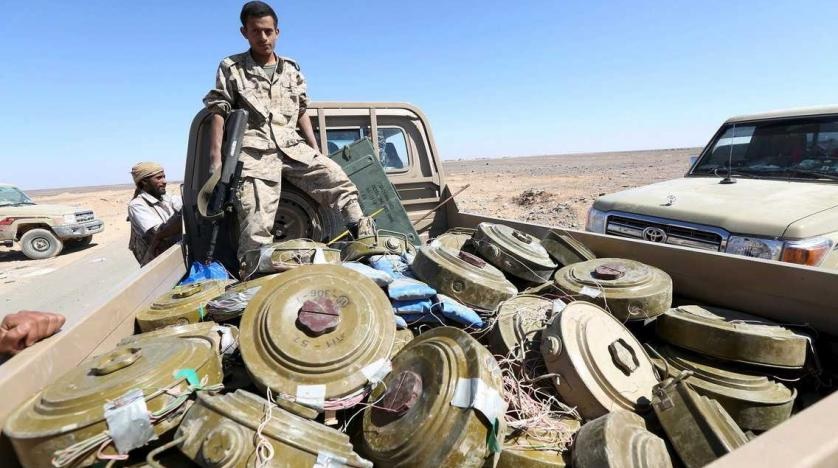 King Salman Humanitarian Aid and Relief Center's (KSrelief) project for clearing mines (MASAM) announced that it had removed 1,318 landmines planted by Houthi militias in the third week of July.
MASAM Program Manager Osama al-Gosaibi said that "the engineering teams had removed 599 anti-tank and three antipersonnel mines. The teams also removed 714 unexploded ordnance and 42 explosive devices."
Gosaibi pointed out that 3,014 mines and unexploded ordnance in total have been removed since the beginning of July.
The total number of mines, explosive devices and unexploded ordnance cleared since the launch of the project until July 18 reached 77,129, he stressed.
Further, scores of insurgents were killed and injured in clashes with the Yemeni National Army and Arab Coalition airstrikes on the fronts of Saada, which is the Houthi stronghold, and Maarib, east of Sanaa.
The army announced Monday that more than 30 insurgents were killed and injured in an ambush laid by the army at Sirwah, west of Maarib. On its September Net website, the army revealed that its forces lured Houthi fighters in Sirwah and attacked them, leaving more than 30 militia members dead and others fleeing.
Brigadier General Raddad al-Hashemi, commander of Kataf Brigade, called on all fighters to unite and focus on confronting Houthis that have destroyed Yemen and waged war and riot since the coup.
Moreover, the Human Rights Information and Training Center (HRITC), a civil community organization headquartered in Taiz, demanded the United Nations to denounce Houthi crimes committed against opponents and even former followers.
HRITC urged the UN – through the Office of the High Commissioner for Human Rights and the Office of the Special Envoy to the Secretary-General on Yemen – to play its role in protecting Yemenis against systematic flagrant violations.