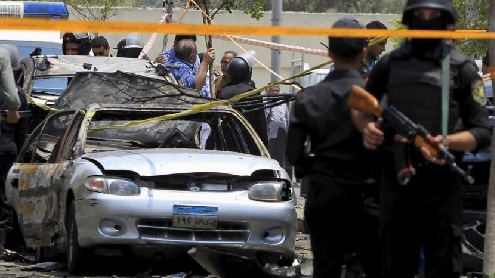 Egypt's Interior Ministry said Monday it is considering measures to legalize notifying security forces of the apartments that are leased and sold (furnished, new rent), or those under construction and other places.
It said these apartments could be exploited by "terrorist elements" and used as shelter and warehouses to hide their crime tools in order to avoid security monitoring.
In recent years, terrorist elements in Egypt have resorted to unexpected hideouts inside furnished apartments amid population gatherings, where they prepare explosives before carrying out terrorist attacks.
The Egyptian Interior Ministry announces every now and then confrontations with terrorist elements, who use residential apartments to hold organizational meetings and prepare the equipment of the terrorist operation.
One of the most famous terrorist incident associated with such den was the assassination of Egypt's Public Prosecutor Hisham Barakat on June 29, 2015.
Perpetrators resorted to renting an apartment in Sheikh Zayed City in the 6th of October district of Giza governorate to manufacture the explosive device, which was placed in his vehicle.
The Interior Ministry confirmed Monday that it is considering discussing the proposed legislative amendment measures to toughen penalties against those not reporting information of tenants of real estate and furnished apartments.
It pointed out that the contemporary security policy is keen to highlight the importance of the public communication with security services to contribute to capturing perpetrators and terrorists as well as aborting their schemes that threaten the society's security and safety.
It also works on deepening the concept of community partnership to improve the security services' performance rates and achieve their objectives.
In addition, this amendment aims at helping people acknowledge the importance of security planning in the completion of the necessary elements and information to preemptive strikes aimed at undermining criminal and terrorist schemes and immunizing society from their evils.