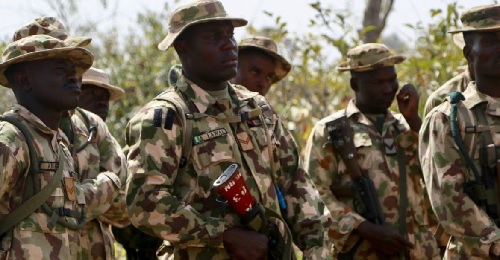 Nigerian troops with air support fought Boko Haram in Mallam Fatori in the Lake Chad area near the border with Niger, the army said, while Islamic State claimed its fighters had carried out a series of attacks in the area.
Troops deployed in Mallam Fatori, killed and wounded "scores of" Boko Haram insurgents during a fire fight at about 6 a.m. on Thursday, February 7, Colonel Ezindu Idimah said in a Friday statement.
Idimah said the militants in 10 technicals – pickups trucks with mounted guns – and on motorcycles were "lured from their hide out in Tumbun Gini to a place very close to" the troops' defensive location in the Abadam Local Government Area and several were neutralized in the ensuing firefight. Three technicals that attempted to escape were pursued by the Nigerian Air Force and "many more" were killed.
Among items recovered were an anti-aircraft gun, AK-type assault rifles, rocket-propelled grenade launchers and ammunition, Idimah said.
The statement did not mention military casualties.
ISIS had earlier claimed fighters from its Islamic State West Africa province affiliate attacked the military in the area over several days.
Update February 9 ISIS claimed via its Amaq propaganda agency that "several" Nigerian soldiers were killed and injured in an attack in Malam Fatori on February 8.
A day earlier and also via its Amaq propaganda agency, ISIS claimed that an attack in Mallam Fatori on February 7 led to "deaths and injuries" among the Nigerian military.
ISIS claimed Islamic State West Africa province fighters on February 5 attacked a military base in "knari" – likely meaning Malum Kaunari which is very close to Mallam Fatori. The February 6 statement said two soldiers were killed, the base was burned and weapons and ammunition were captured.
Five days earlier, three soldiers were wounded during a "routine defense patrol" on February 2 in Mallam Fatori when they encountered militants who intended to "attack troop's location." Troops killed "many" in a firefight, the army said, releasing images that appeared to show at least four bodies.
ISIS claimed ISWA fighters had attacked a military base in the town, killing and wounding soldiers.
Mallam Fatori, in the Abadam Local Government Area of northern Borno state, has seen significant ISWA activity in recent weeks.
On January 17, ISIS claimed a number of soldiers were killed and injured in an ISWA mortar attack on Mallam Fatori.
ISWA fighters attacked a military base in Mallam Fatori on December 3. One soldier was killed and several others were injured in the attack, which was repelled with air support.
Attacks have also been reported across the river that serves as a natural border between Niger and Nigeria.
Niger's defense minister said in December that he feared Boko Haram would launch renewed attacks on its positions from January, when the river's waters begin to recede.
In early January, a Nigerien army ground and air military offensive in the area against the armed group killed nearly 300 Boko Haram militants, according to the defense ministry.
A local official said on January 29 that Boko Haram militants had shot dead at least four people in Bosso, in Niger, around 5 km from Mallam Fatori.
Boko Haram's bloody insurgency began in northeastern Nigeria in 2009 but has since spread into neighboring Niger, Chad and Cameroon, prompting a regional military response. Some 27,000 people have been killed and two million others displaced, sparking a dire humanitarian crisis in the region.
Boko Haram split into two factions in mid-2016. One is led by Abu Mus'ab Al-Barnawi and largely focuses on attacking military and government targets, while the other, led by Abubakar Shekau, is notorious for suicide bombings and indiscriminate killings of civilians.
Shekau pledged allegiance to ISIS leader Abu Bakr Al-Baghdadi, but ISIS central only gives formal backing to the Barnawi faction, which is known as Islamic State West Africa province.
Both factions of Boko Haram have intensified attacks in the region over several months, but the upsurge in ISWA attacks has been much more serious. Amid signs of a takeover by more hardline leaders, the group has launched dozens of assaults on military targets in Borno and Yobe states in Nigeria.