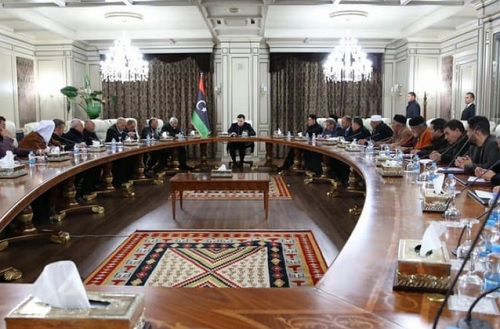 Elders and leaders of Misrata held talks with Chairman of Presidential Council Fayez Sarraj on Wednesday on the current political and security dilemma in the country.
During their meeting in Tripoli, the Misrata delegation demanded Sarraj disclose names of the obstructors of security arrangements and dissolve the armed groups that hinder implementation of the arrangements.
They also reiterated their utter rejection to the military rule and their aspiration for a modern democratic civil state, according to the Press Office of Sarraj.
"Misrata delegation expressed their support to the Presidential Council and its efforts to unify the country and end the political crisis. They also expressed support to the security and economic arrangements." The Press Office reported.
Misrata elders warned in a statement following the meeting that tension is growing in their city over the delay of security arrangements and the predominance of armed groups in Tripoli, saying they will bear no responsibility for any reactions that may occur as a result of failure to meet their demands.