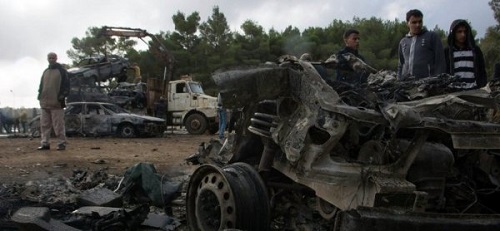 La situation en Libye ne semble pas évoluer vers la paix. L'organisation terroriste dite "Etat Islamique"(Daech) s'impose dans plusieurs localités, commettant des attentats ; Al Qaida au Maghreb islamique (AQMI) tente de revenir à la charge et les armes continuent à être disponibles, menaçant la sécurité de ce pays et de toute la région.
Face à cela, nombre de pays préparent une offensive militaire en Libye, au risque de rendre la situation davantage chaotique.
Des troupes des États-Unis, de France, d'Espagne et d'Allemagne pourront participer à une mission destinée à sécuriser la Libye, a rapporté hier le journal britannique The Times.
Les forces spéciales de Grande-Bretagne, de France et des Etats-Unis pourront également mener des opérations antiterroristes, et notamment des frappes aériennes, contre des positions de la branche libyenne de l'Etat islamique (Daech) et d'autres groupes islamistes, ajoute « The Times », afin de circonscrire leur avancée en Afrique du Nord.
Le journal a cependant précisé que cette mission ne pourra être mise en place que lorsque les factions rivales en Libye se seront mises d'accord sur la formation d'un gouvernement d'union nationale.