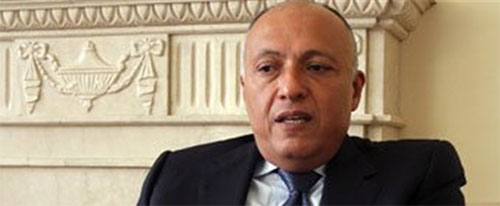 Egyptian Foreign Minister Sameh Shoukry started a foreign tour Tuesday, which will include Tunisia, France, Russia, and China, state media reported.
During his visits, Shoukry will hold talks with the foreign ministers of Tunisia, Russia, China, as well as a meeting with Prince Saud Al-Faisal, the Saudi foreign minister, in Paris. The meetings will cover the ongoing Security Councilconsultations on the Arab draft resolution on Libya and the ongoing preparations for the upcoming Economic Summit in March.
Foreign ministry spokesman Badr Abdelatty added that Shoukry will also meet his Tunisian counterpart, Taieb Baccouche to thank him for Tunisia's assistance in facilitating the return of Egyptians from Libya.
Also, Egyptian President Abdel Fattah Al-Sisi held a meeting Tuesday with Malian Defence Minister, Tieman Hubert Coulibal, where Hubert stated that he is "looking to strengthen [Mali's] military and security cooperation with Egypt". Minister of Defence Sedki Sobhi previously met with Mali's former minister of defence Bah N'Dao in August, where they discussed ways to strengthen military cooperation between both countries.