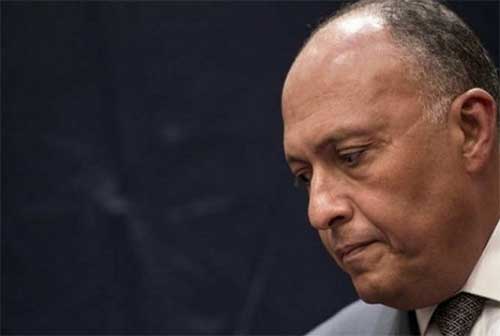 Egyptian Foreign Minister Sameh Shoukry met with United Nations special envoy to Iraq Nikolay Mladenov to discuss the current political and security situation in Iraq and efforts made to confront the extremist 'Islamic State' group, known as ISIS.
During the meeting, Shoukry and Mladenov also discussed the steps done by the Iraqi government to integrate all national forces in the political process without exception, according to a Monday statement by the Ministry of Foreign Affairs.
Shoukry expressed Egypt's support for the Iraqi government in fields of development and training. Mladenov stressed the importance of Egypt's role in achieving stability and security in Iraq, due its experience in "spreading moderate religious rhetoric and countering extremism".
The statement added that the minister explained the role of Egypt's religious institutions, Dar Al-Ifta and Al-Azhar, in countering extremist ideology.
The Egyptian government has been a vocal opponent of Islamist militants in Iraq and Syria.
Egypt's Ministry of Religious Endowment condemned the actions of ISIS, accusing the group of being "disinterested in humanity". The ministry also accused the group of tampering with dead bodies; "torture, which is forbidden in Islam"; and "cutting necks and throwing bodies apart from the heads".
The foreign ministry said in August that the advance of ISIS threatens the whole region.