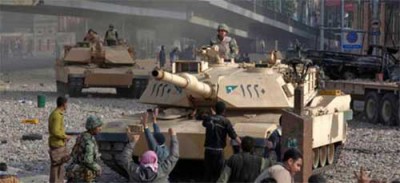 Twelve militants were killed and 68 others arrested today in raids carried out by the Egyptian army in the country's four different governorates.
The army has launched raids against militants in North Sinai, Ismailia, Port Said and Daqahlia governorates killing 12 militants, including Mohamed Abu Shatiya, a field commander of Ansar Bayt al-Maqdis- the country's mostdangerous Islamist militant group, army spokesperson Brigadier General Mohamed Samir said.
He said 68 militants were arrested besides 17 vehicles and 49 motorcycle being destroyed. The army also destroyed a field hospital used by the militants.
North Sinai has witnessed many violent attacks by militants since January 2011 Egyptian Revolution that toppled long-time dictator Hosni Mubarak.
The attacks targeting police and military increased after the ouster of Islamist ex-president Mohamed Morsi last year.
Many policemen and soldiers have been killed in the attacks.